Intercom Install & Repair
Back To Our Services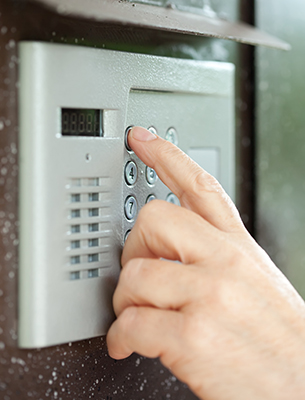 Our Door and Gate Repair in Sherman Oaks California has worked very hard to be the best driveway gate company in the community. We do our best to provide driveway door and gate repair service that defines the nature of this industry. If you need door and gate repair service then you definitely want our driveway gate contractors to provide a variety of driveway gate services for you. We have faired very well in this community because we have earned the respect and trust of our peers and customers as well. Our staff and crew are always courteous, understanding, supportive, honest, and reliable. It is this professional approach that has won the community over time and time again.
At Door and Gate Repair Sherman Oaks we take our Gate Repair & Install Service quite seriously. We don't want our customers to feel trapped at work or at home because they cannot get through a door or gate that is in need of repair. It is for that very reason that we established our emergency door and gate repair service that is available around the clock for those who live in the Sherwood Oaks community. Listed below are just a few of the repairs ourdriveway door and gate contractors can provide:
broken hinge repair
post repair
wheels repair
track repair
hinges welding
motor installation
safety sensor repair/install
exit loop installation/repair
opener repair/installation
We approach driveway door and gate repair with the extreme focus the service deserves. There is no job too big or too small for our fence/gate contractors to confront.
Intercom & Installs Service is very important to us as well.
Our driveway door and gate company can repair or install intercom and phone systems for you that will enhance your safety and security process. Our driveway gate company caters to both the residential community and the commercialregion as well. We can install a telephone entry system or a keypads telephone entry system per your request. These intercom systems are mounted on your gate and in your home or business. This allows you to keep your gate locked until authorized personnel are allowed to enter. As each car or pedestrian approaches the door or gate they will have to identify themselves and/or enter a code on the keypad. The intercom allows you to communicate with the visitor. Our professional Repair & Installs Service crew of professionals is ready to assist you with your intercom system.
At our Door and Gate Repair in Sherman Oaks we offer a variety of Driveway Gates for our customers. Here are just a few that may apply to you:
walk through gates
pedestrian gates
driveway gates
parking garage gates in Sherman Oaks
electric gates in Sherman Oaks
automatic driveway gates in Sherman Oaks
barrier arm gates
overhead gates in Sherman Oaks
swing gates
sliding gates in Sherman Oaks
wrought iron gates
With so many gates available you are bound to find the right type of gate for your home or business. Our experts can repair or install these gates for you.
Our driveway gate contractor in Sherman Oaks also offers Custom Made Gate Service. What this means is that you can tell us exactly what color, design, style, and size gate you want and our welders will produce it for you. We can put your emblem or logo on the gate or anything else that establishes your own personality. Our iron workers are standing by to create your masterpiece.
There is nothing quite like a carefully crafted Wrought Iron Fence and our driveway gate service in Sherman Oaks does it better than anyone else. We only use the best iron available and many of our welders and iron workers are second and third generation iron working experts. Whether you are looking for that traditional look or a modern look that will enhance your curb appeal; the wrought iron fence is the way to go. Here is some of the iron work our Door and Repair Sherman Oaks can do for you:
security doors
window guards
railings
retaining walls
dog runs
cages
pool enclosures
pipe corrals